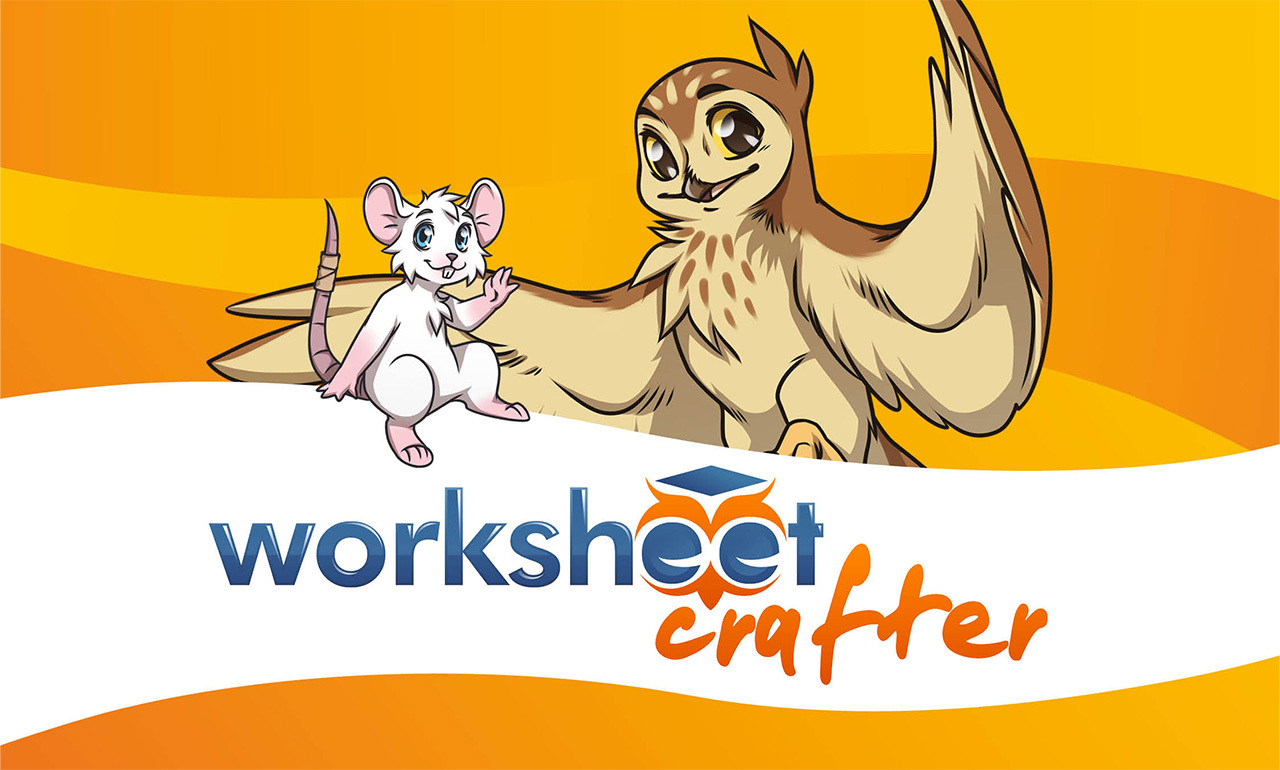 Worksheet Crafter 2014.1 is available - now also for Mac!
Good news:  the new Worksheet Crafter 2014.1 is available. This new version includes a set of new features our customers asked for:
A new item for self-controls
Convenient way to number exercise items
Hand-drawn worksheets

New cliparts about "Children of the world"
Comprehensive extensions of the clock field
And many improvements more...
Last but not least the new Worksheet Crafter is finally available for Macs as well. Hurray :-)
Self-Control Items for your Students
The self control item shows the solutions of selected exercise items in a random order. Use this item to give your pupils the possibility to verify their results on their own. Worksheet Crafter offers multiple display styles for the self control  item.
Here is an example in the classic "snake" style:
In this example the green solution values of the two number pyramids are included in the self-control snake. Setting up the self-control item is amazingly simple. Just a few seconds are required to setup the snake including the solution values.
Saving Time with the New Numbering Item
When creating worksheets it is often required to number the various exercises. Although this can be done in most applications somehow, it is too time-consuming in our opinion.
The new Worksheet Crafter comes with a convenient new numbering item to simplify this process. Simply drag the item from the toolbar onto your worksheet, and your done. Worksheet Crafter will automatically increase the exercise number and will also adjust the font size if needed:
This might not sound very spectacular, but tests with a couple of dozen customers have shown that it is very useful - and it looks better.  :)
Now also available for Mac!
It was a lot of work, but now we are there: the new Worksheet Crafter does finally also run on Mac computers:
The Worksheet Crafter for Mac has the same feature set as the Windows version. The look & feel is also nearly identical, so that you don't need to readjust. According to our beta testers the Mac version runs both fast and stable. So there is finally nothing that speaks against using Worksheet Crafter on your Mac (Mac OS X 10.6 and higher).
When purchasing Worksheet Crafter you will now always get both the Windows and the Mac version. This means that there are no additional costs for the Mac version, and you may even use Worksheet Crafter both on your Windows PC and your Mac notebook.
Hand-drawn Worksheets
The new Worksheet Crafter offers the possibility to let your worksheet look like hand-drawn - with one single mouse click. If configured, Worksheet Crafter draws the lines both slightly thicker and wobbly. For example, the magic square item then looks as follows:
This is quite nice for language related worksheets or simply for beautifying your worksheeets. Here are two more samples (in German language):
New Cliparts about "Children from the World"
We have extended the Premium Clipart package with new clipart about "children of the world". You will get images for 26 different children from various cultures, all of them available in three different color schemes (colored, black/white, contour).
Comprehensive Extensions of the Clock Field
The clock field has received a set of new features based on customer wishes.
First of all the exercise generator of the clock field now also supports five and fifteen minute steps. Second, the clock face can be configured more flexible now, finally allowing you to hide all numbers or to show all 24 numbers:
And last but least the clock field can now optionally show two time labels below the clock face:
Transparent Cliparts and Pictures
All pictures and cliparts can now optionally be rendered with a transparent background. This makes it much easier for you to place overlapping clipart on your worksheet:
More Powerful Frames for Text Boxes
The text box now provides extensive properties for configuring its frame. You can setup round frames, boxed frames, rounded frames, frames with transparent background, semi-transparent background, frames with colored background and much more.
Hier is an example with a colored, semi-transparent frame (in German language):
And Many Improvements more..
In addition to the improvements mentioned above we have also fulfilled many more smaller wishes our customers asked us for:
As requested by many customers, the handwriting lines can now also be scaled down all the way up to 50% of their normal size.
Worksheet Crafter now remembers the recently used font size in case the font size has been used more than once.
The print preview will not show the helper grid and the page margins anymore. Due to this the print preview now gets much closer to the final result when being printed.
Feedback from Beta Testers
The new version has been tested by about 30 customers before the official release. Here is what they are saying: :
"The first experiments with the new version have shown: brillant, just brillant!"

"Fantastic improvements! Thanks a lot!"

"I have tested the new Mac version in the last few days and I am thrilled!"

"I can only congratulate you on the new version. The Windows version was already more than worth its money, but I couldn't speak any higher of the new Mac version!"
How do I get the New Version?
If you already own the Basic or Premium Edition then you will get the new version for free, as part of your annual license. If you own the Unlimited Edition then you may purchase the new version for a reduced price. In any case you should receive an email with more information from us in the next few hours. If you don't get this email then please contact me.
I hope that you like the new version! I am looking forward to your comments.
Best wishes,
Fabian Roeken